Competitors link analysis & submission
In this chapter, we will discuss how to analyse competitors, their backlinks, competitor analysis tools, domain authority, the meaning of competitor analysis, examples.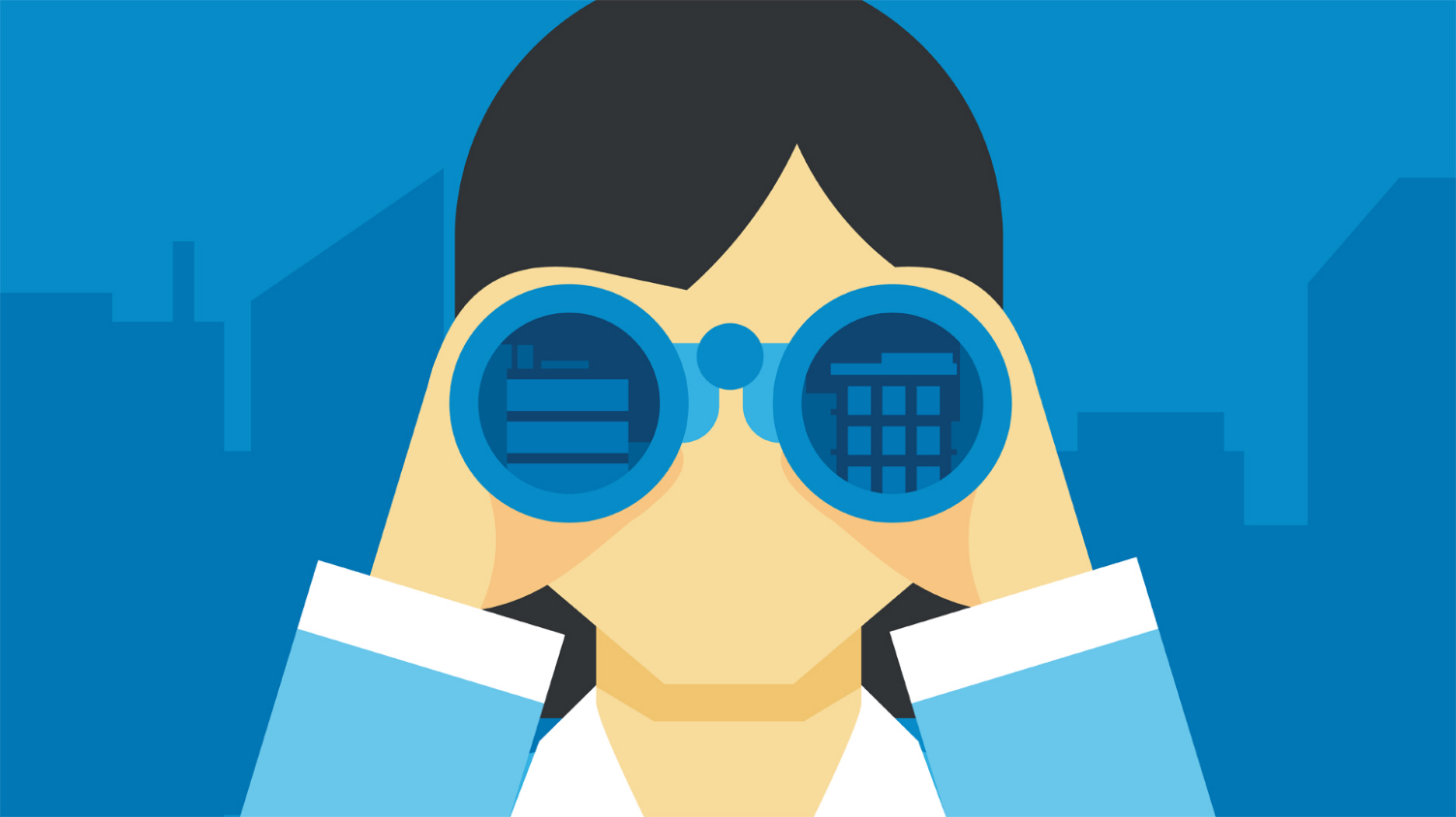 Friends help and enemies further help you learn new things, the saying is valid in the course of digital marketing as well.
If your competitor is outranking you in the business, it is time to check their strategies, in terms of SEO we call it Link Audit or Competitors link analysis
Backlinks are still the best currency of SEO, and those from high authority sources are like trading with gold coins. They provide immense value to your digital asset.
What is the high authority and how it is useful in SEO? (DA & PA)
Authority comes with leadership, and the only way is to earn it when the community starts recognising someone, which leads to a right level of engagement and followings is leadership. We call that person an influencer.
DA & PA
More the followings & engagement, higher the authority.
A good example is, you may likely listen more to your favourite actor's advice as you are following him. Likewise, if the same actor is quoting you somewhere, you will become famous overnight, and that's the power of authority flow.
So how it works in SEO?
In precisely the same way, search engines will recognise you more quickly if influencers in your industry recognise you if they are quoting or providing your reference in the community, and the best way is through a contextual backlink.
What is the metric of authority in SEO?
It's the DA: Domain Authority and PA: Page authority
A metric algorithm designed and developed by MOZ, we can measure the overall power of any domain using DA, similarly when we measure the influence of any given web page is PA.
The scale of measurement is 1-100, where one is the lowest and 100 highest.
A tool to check DA & PA
The official tool to check the DA and PA is Moz Link explorer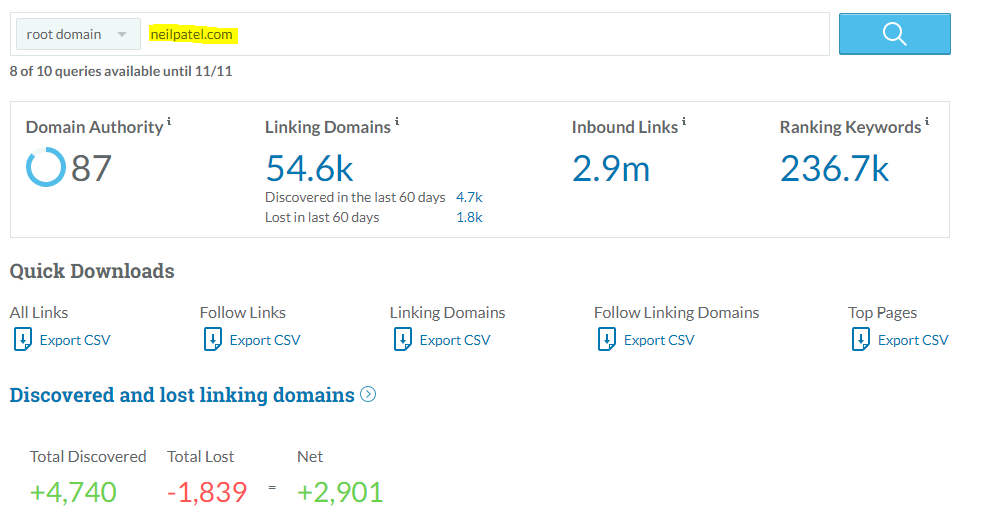 You can also download the Moz bar from Chrome store, which provides you with instant SEO metrics, including DA & PA, while operating Google search.

How is domain authority scored?
Moz explains they are scoring the domain authority on a 100 point logarithmic scale.
The exact process to build the domain authority and trust
Search your near competitors in Google, scrape sponsored results, local listings, and influencer website design, then collect the remaining ones in the sheet, up to 4 or 5 competitors.
Open the Ahrefs site explorer tool, and dissect the first competitor.
In my case, I can see one of my immediate competitors keeps a basket full of more than 2.5k backlinks. Where the +11 shows the new links secured.
Let's click on the backlinks to find out from where exactly my competitor is getting all those links.
Hey, look at the data and check what you have got?
Analysis will give you good results
Precious links your competitor is receiving,
The anchor text used in the backlink
The referring page containing the backlink
DR: domain rating, based on ahrefs own 100 points logarithmic scale
If the backlink is DoFollow, No Follow, contextual
Secondary details like website CMS, traffic estimates, linked domains etc.
Link explorer tools
Ahrefs Link Explorer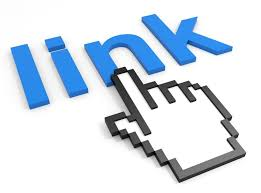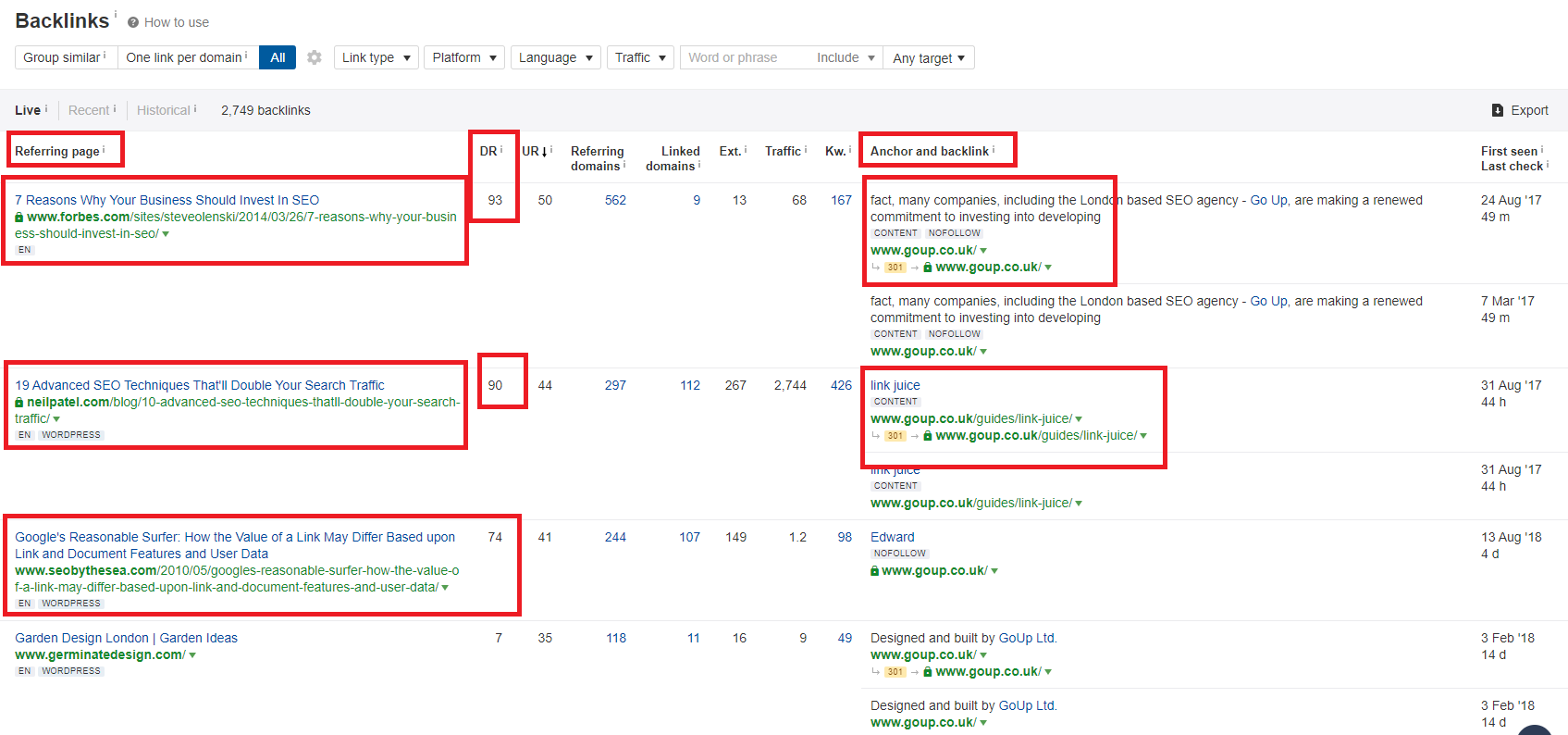 In the next step, you will export the full list using the 'Export' button the top right corner of the page.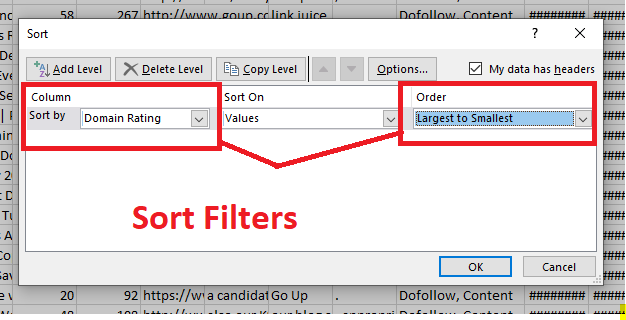 Download the sheet, select all the columns, then go to sort and filter, and click the custom sort button, select the sort column with domain rating and order in most significant to smallest
I am sure you are curious to know the details of all the high authority sites first, and the above process will help you to sort the whole sheet to your desired order.
In my case I can now easily see the full list my competitor is getting a backlink from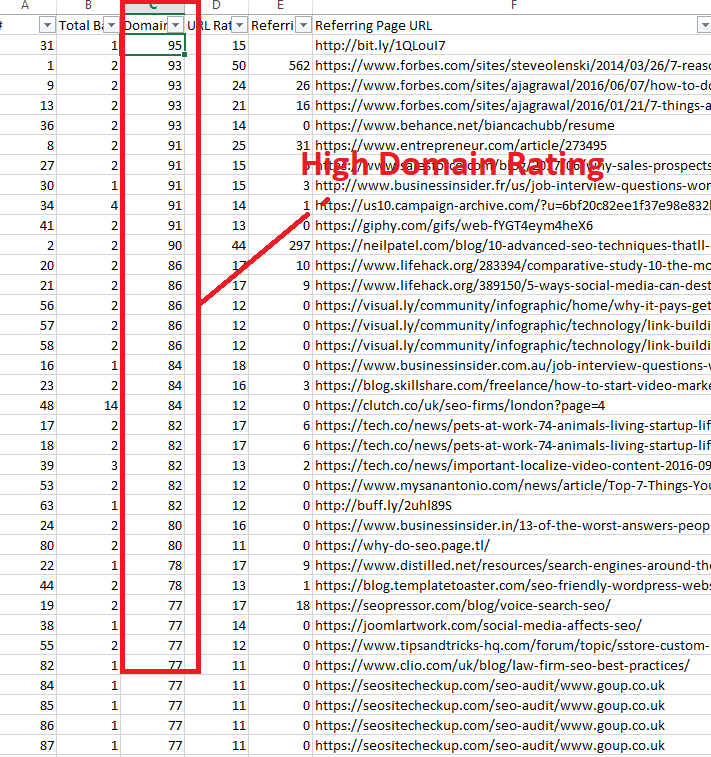 The final step is to check and analyse each link carefully and make relevant categories to avail the link opportunities. These may be
LINK OPPORTUNITIES
Final Step
Guest posts
Directories
Citations
Case studies
Syndications
Blog commenting
Try to reach the webmasters or site owners or representatives as they may likely be responsive to link with your content. These sites belong to your niche and provide you with opportunities for content outreach.
Uber-Suggest
Uber-Suggest by Neil Patel is also an excellent tool in which you can add up to five projects. The tool is free and provides exhaustive information about traffic stats, backlinks, competitor analysis, keyword suggestions, content ideas, domain analysis, and site audit.
You can find competitor backlinks easily and export them to a CSV. Then execute the same steps to see submissions.
Although ahrefs is exhaustive in terms of functionality, however, paid where uber-suggest is entirely free, still covering all the essential tools for analysis.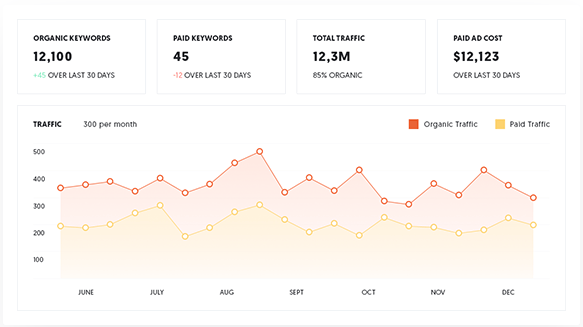 You can give it a try and find out
MOZ
Moz is one such player as well in providing SEO metrics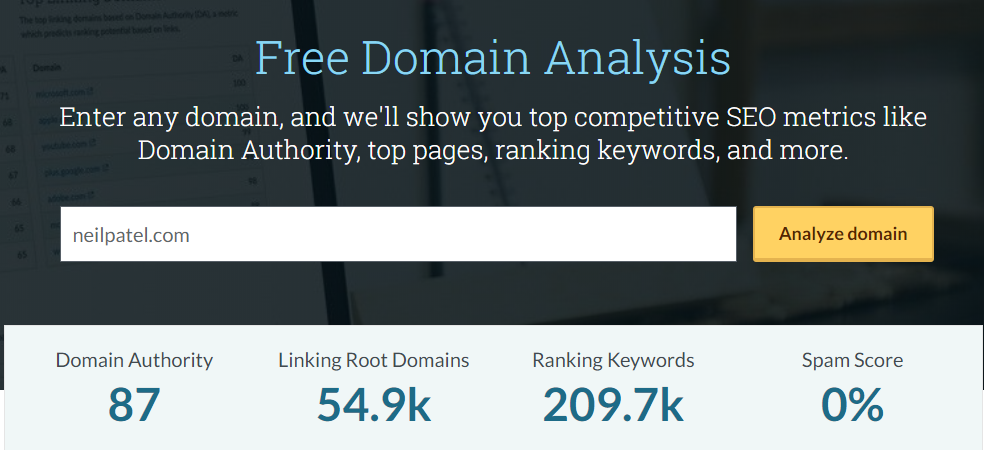 They are providing the top-level stats free; you can explore more only after a paid signup.
Sum up
To sum up, getting a backlink is exceptionally challenging yet accessible in some cases, you can secure a backlink from a high authority website using a sensible comment in a blog.

Disqus is a community platform for blog commenting. You only need to sign up and start, Install in your website for free, WordPress provides Disqus widget
Although guest posting is a unique and exciting process full of challenges and they are not limited to just
Finding the niche,
building your trust,
doing a professional pitch,
writing an exhaustive article,
keeping consistency in the guest post-process
We are already covering guest post, syndications with prolixity above.
Hyder Ali Khan
Hyder Ali Khan has worked in the digital marketing industry for the past ten years, with the majority of that time spent in the role of Operations Director & head of digital assets creation & marketing at Pacific Infotech...Read more