Media creation & promotion
The chapter explains the importance of graphics in SEO, how to create graphics, tools for graphics creation, types of graphics, how to create videos, types of videos, writing script, the difference between a video script and blog writing, what is audience persona, the importance of script in a video, spontaneous speaking. Video hosting platforms, and much more.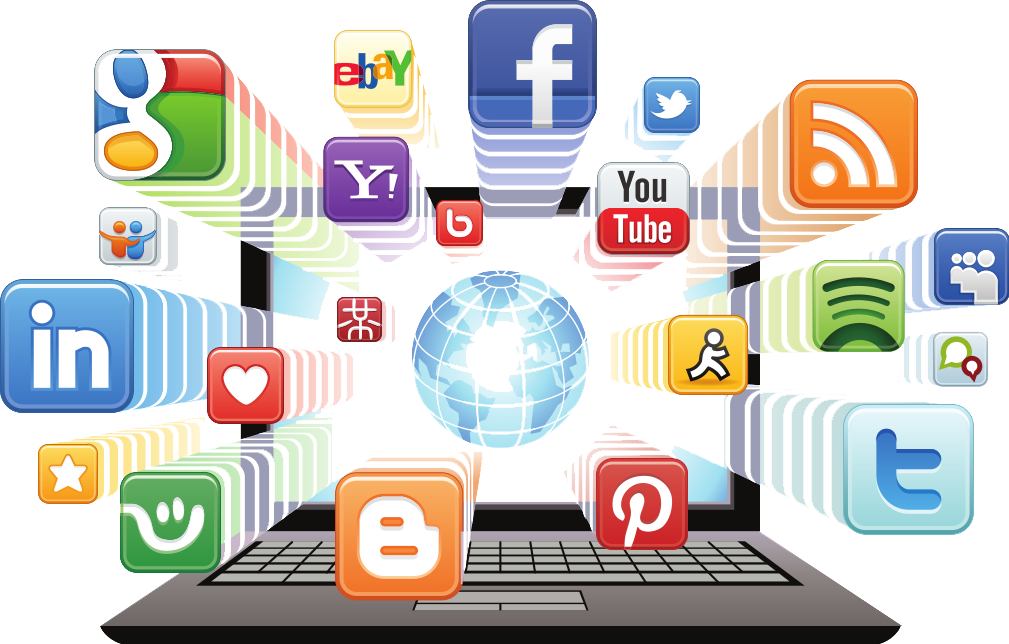 Digital marketing is incomplete in the absence of Media; we can create content graphically and textually; these are the two primary methods; podcasting is also the emerging one.
Promotion is a package deal which is a combination of representation of content backed up with graphics.
Promotion is a package deal
Text only promotions doesn't work and unless presented with media.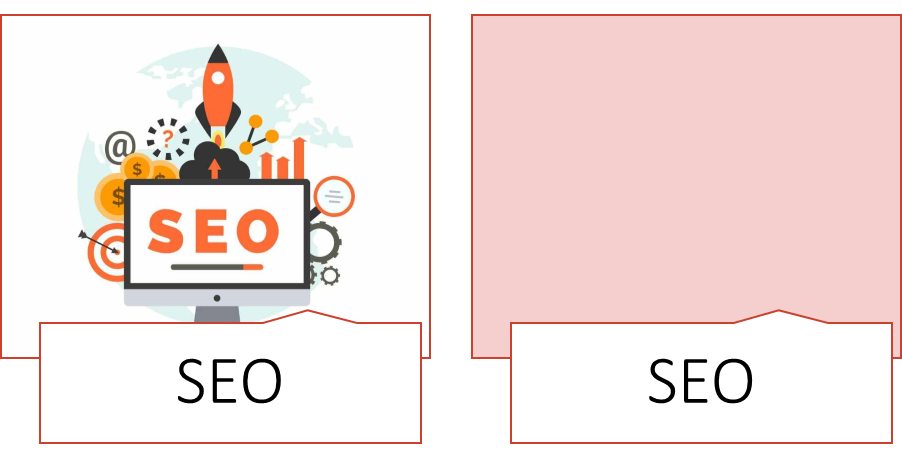 In the above example, the one with the graphic looks attractive.
Text only promotions don't work and unless presented with media and remains unsuccessful. Reason being text-only promotions are mostly dull. Where eyes attract with graphics resulting in a much higher response rate.
A picture speaks a thousand words, using raw images in the promotion without any content. Sharing and commenting on photos is now part of our day to day lives. Media refers to pictures and videos.
We can explore
graphical content
in the following ways
Info-Graphics
Raw images
Videos
Charts & Graphs
When we display, relevant content in a picture is called as an
info-graphic presentation
and is extremely popular.
The most effective way to deliver content is when we use videos as the medium;
however, creating compelling videos is another challenge to face. YouTube is the best and most popular social sharing video site. Videos generally come in these formats etc.
Use of charts and graphs works best with the type of content showing comparison and figures, and a popular one is a flow chart, pie chart, bar graph etc.

Tools to create info-graphics
All primary social networking sites provides inbuilt graphics editors to create simple infographics. However, you may need specialised tools to create a sophisticated and compelling one.
Forget Photoshop, illustrator; they are way too complicated and much more than creating info-graphics.
INFOGRAPHIC CREATION TOOLS
Forget photo shop, illustrator

Many cloud-based options are available free and paid both. Few good ones are:
Canva
One of the famous and widely known info-graphic creators, canva provides thousands of inbuilt templates to create posters, logos, flyers, cards, brochures, presentations, letterheads, certificates, info-graphics and the list goes on.
You can create your designs as well. A powerful cloud-based tool, save the artwork in folders, export images in all major file formats. Create unlimited info-graphics for free. Canva provides an extensive library of shapes, icons, logos, graphics, objects etc.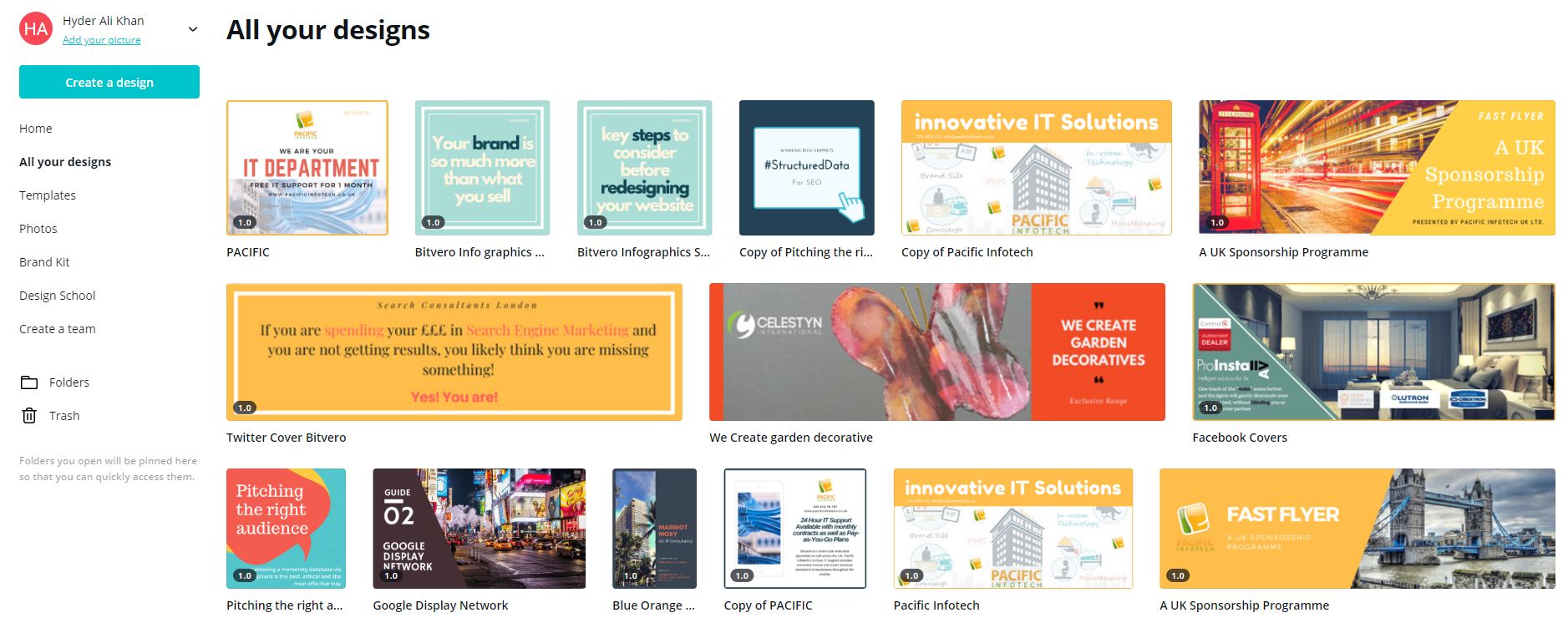 Visme
They claim to have 3.5 million users worldwide, we have observed the free template library is limited to few templates only and premium templates are only available to paid users.
They are providing a powerful graphics creator with a compelling library of data visuals, images, graphics, charts, maps.
They also allow embedding videos, audio and online content. Create your folders. Their plans start with $14 / mo. The basic idea is free but up to 5 projects only.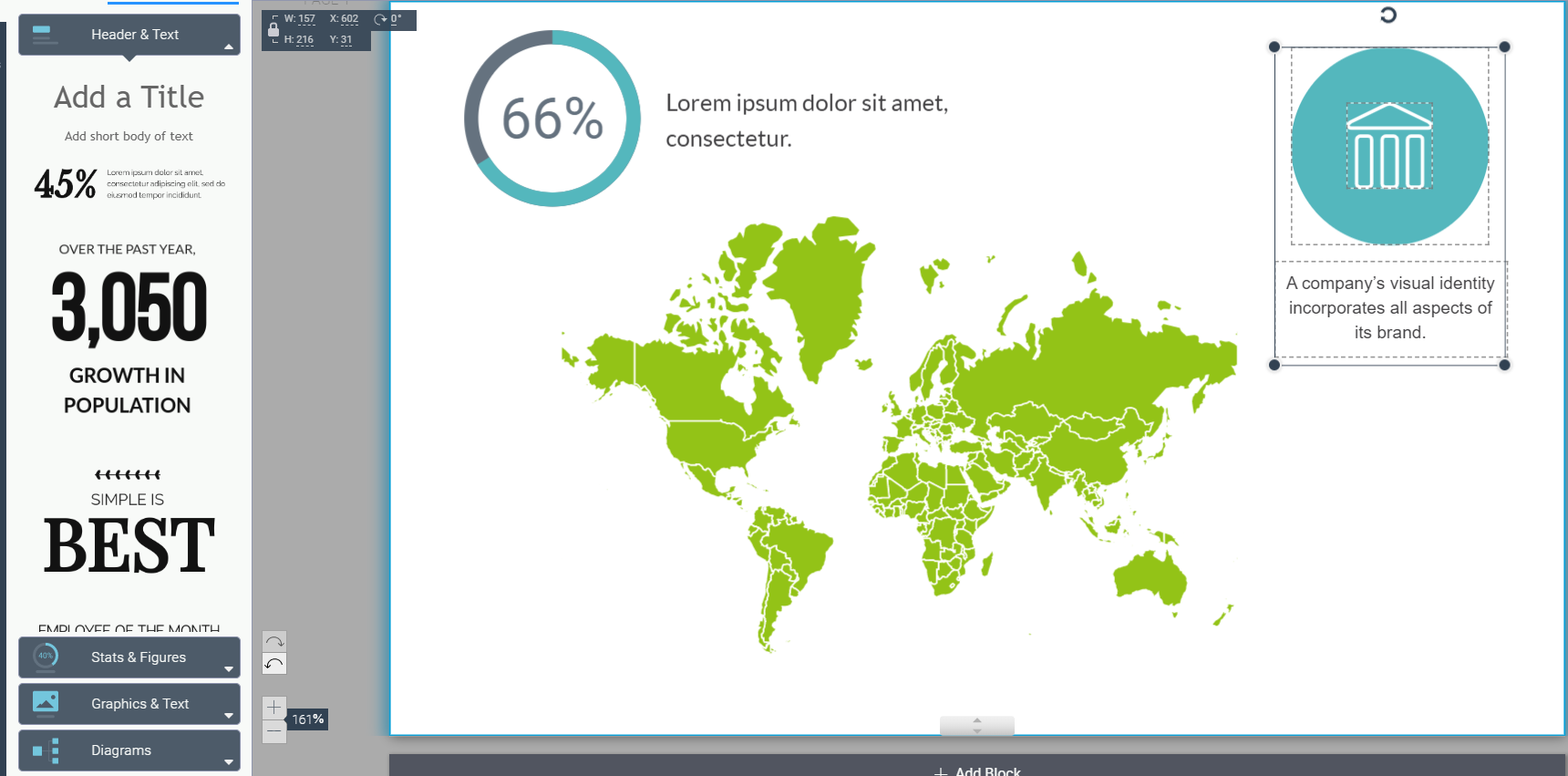 Verdict
Many other options are available like Piktochart.com, easel.ly, info.am, you can check the list of 20 info-graphic tools, and however, they all are extending limited functionality unless subscribed to a paid one.
Canva is by far the most exhaustive platform to create infographics, all the basic and advanced features to create infographics are free. Just after the signup, you have access to all the libraries, templates to use.
Video Creation & Marketing
Content is what matters in videos; dialogue delivery in conjunction with the presentation makes it memorable.
DIALOGUE DELIVERY + PRESENTATION
VIDEO CREATION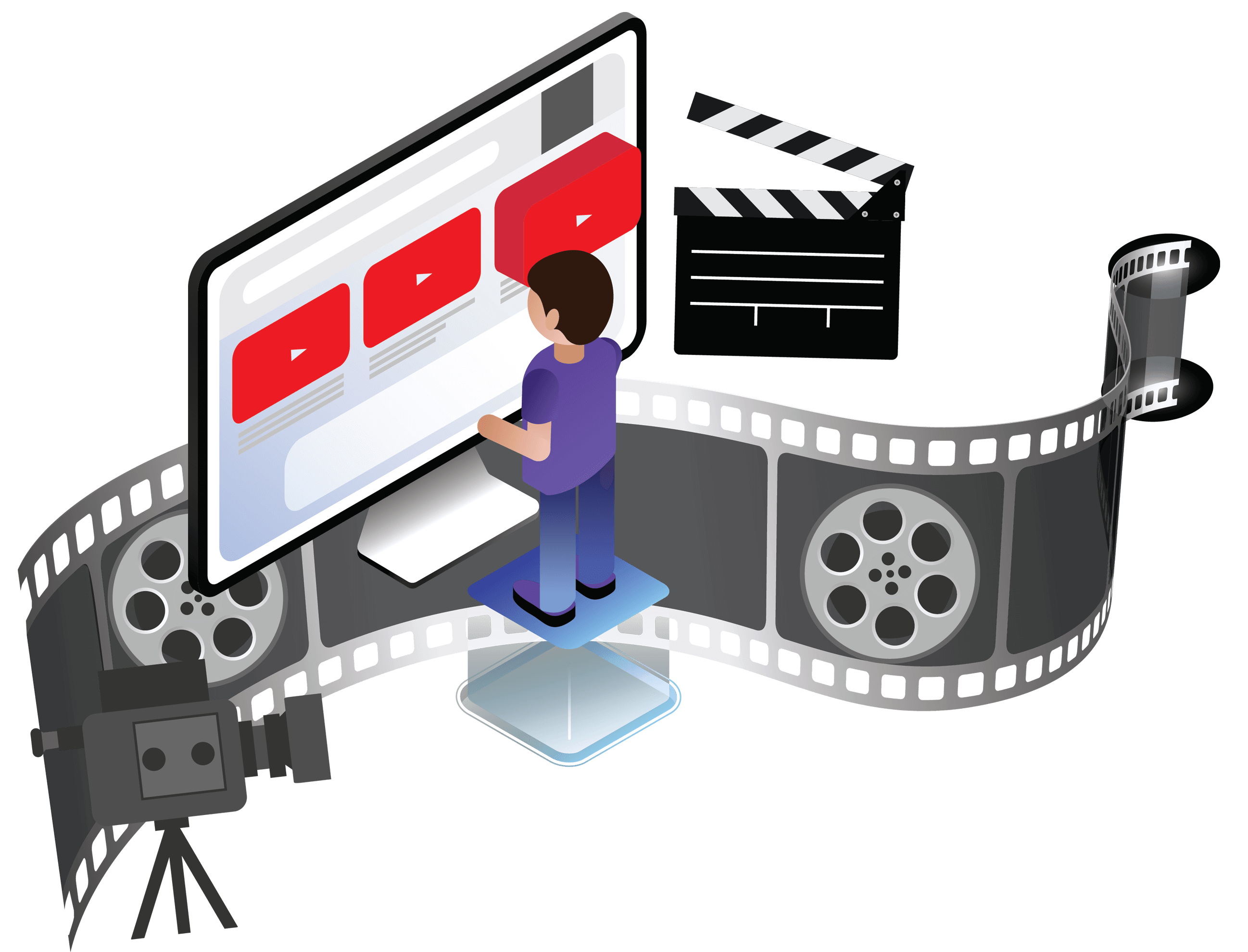 You can engage and increase your viewership across social media by creating
informative videos to educate your audience
. As per the survey from Hubspot, people are more responsive to video content.
Videos helps business increase their conversion rate by 80%. Hubspot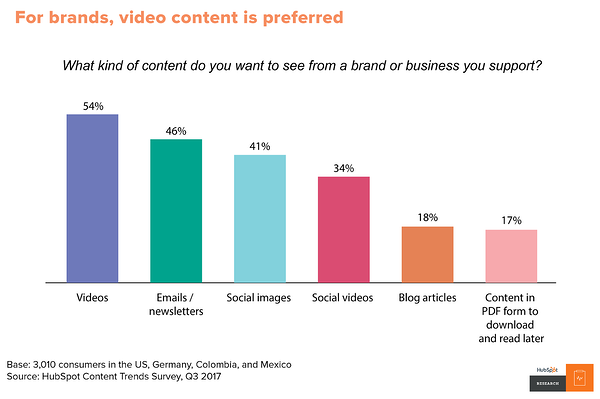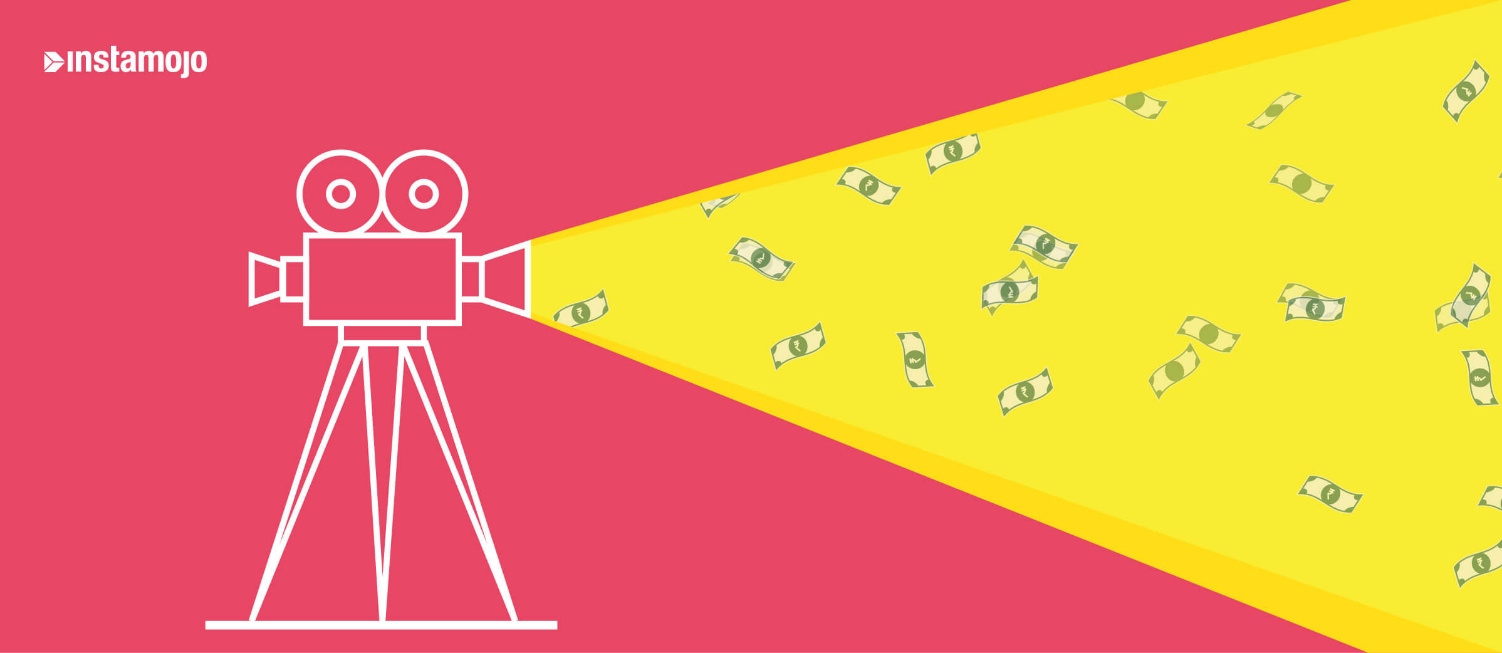 Decide the kind of video you want to film as the content and presentation will be following the video type.
The different types of videos are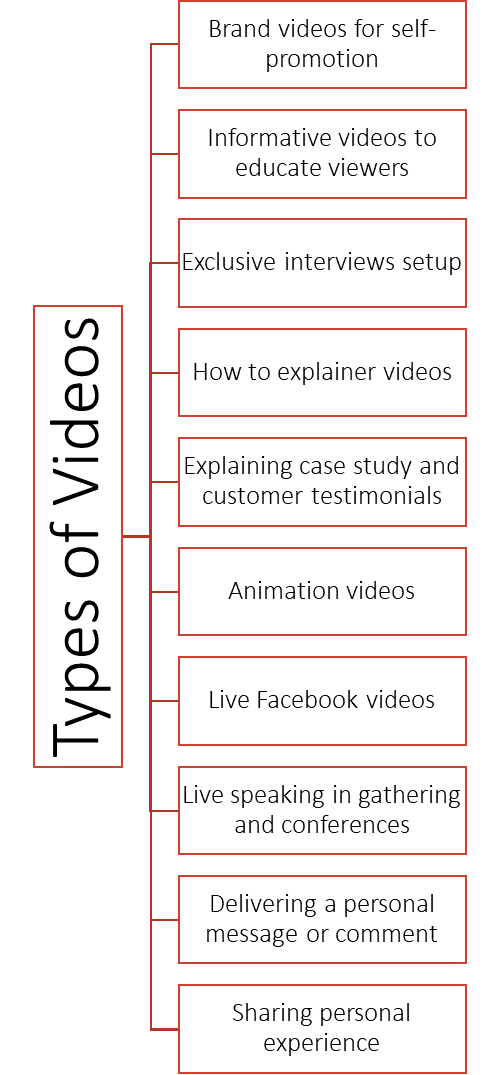 A little planning before you will start shooting your video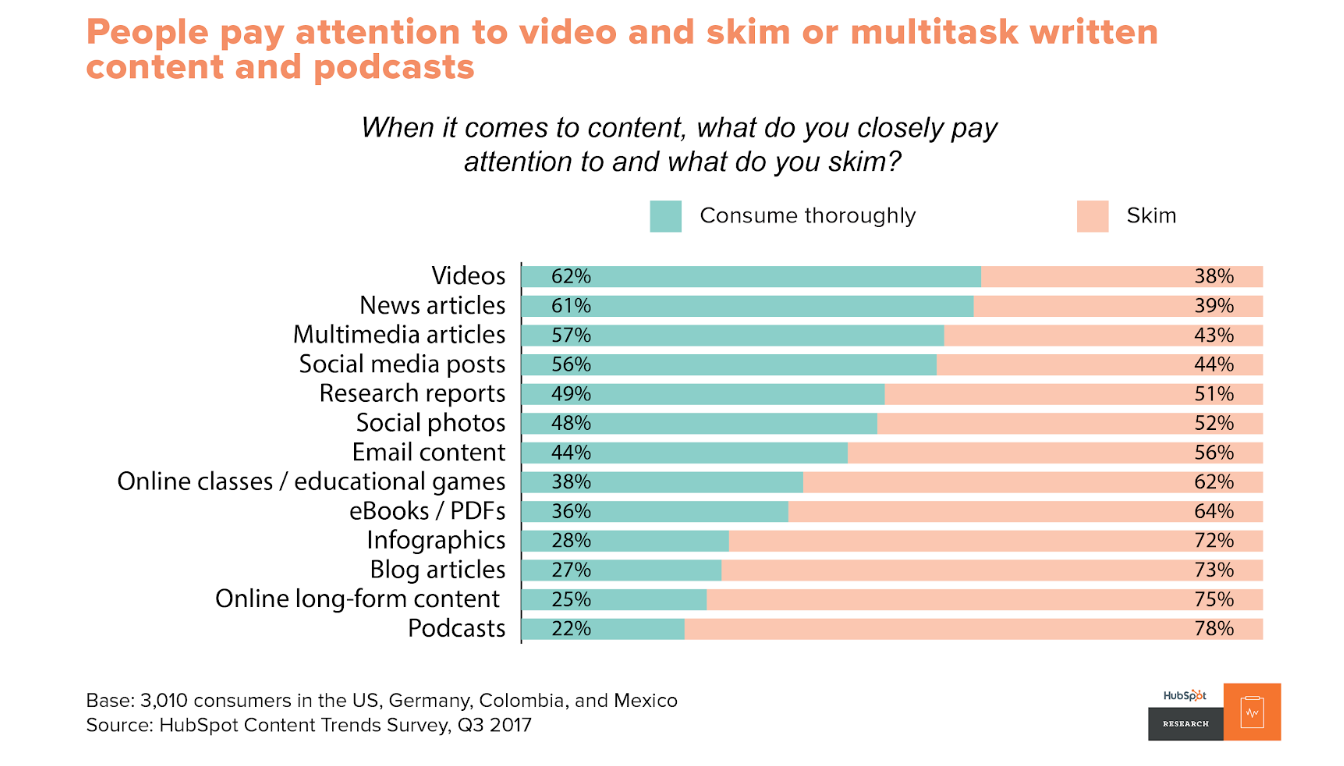 Unless you know what you are trying to make, you may end up editing and re-shooting, which will further lead to confusion. Moreover, frustration if you are not confident.
Find out the audience persona, the reason why your audience will listen to you, is your message valuable for the audience, or is the subject interesting to hold visitor attention throughout the video?
AUDIENCE PERSONNA
Who is your audience – will they listen to you?
Be your critics and question yourself the reason to create the video, expected reactions & responses of your audience and how you intend to reply and face.
You may realise the contemplation will give you the required backup.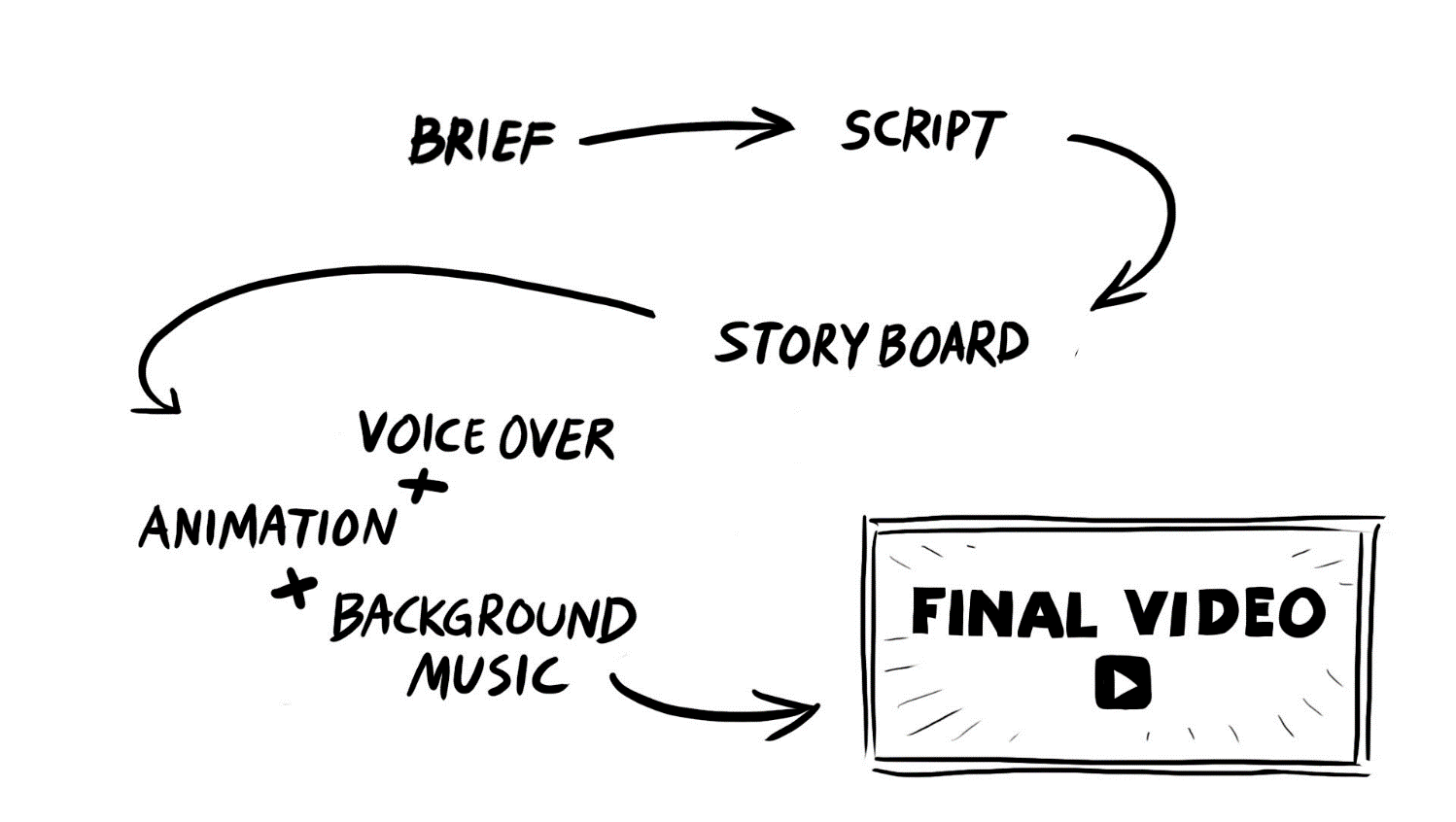 Speaking Spontaneous
You can consider speaking spontaneous if you are keeping a good grip on the topic from a broader yet narrower perspective, meaning you know the subject from inside out.
Or else consider preparing the same first, even though you know how to face the camera,
Poor content will affect your engagement and audience trust.
The difference in blog writing & video script
We create a video script into heads & sub-heads with only major points highlighted, whereas we usually explain topics with prolixity in the blog.
We usually prepare a video script to helps us remember the topics, their outline and further sequence with essential connections and highlights, whereas, in a blog, our user expects us to explain everything with critical highlights.
We cannot just read a blog script in front of a video, as it will be too dull for the audience, whereas the same content works well as a blog publishing.
We use a conversational language in a video much relaxed and transparent, means free from jargons & complex words, whereas blog script goes sequential & wordy with backup links and explanation, actionable content & graphics.
What if we will not prepare a script for our video?
EDITING & RE-EDITING, THEN RESHOOTING
IT WILL COST YOU TIME & MONEY
We may end up editing more and more, reshooting and further editing will take more time and money, even though if you are shooting a short video prepare a script and we promise it will help in better content delivery.
VIDEO SCRIPT WRITING - How to prepare a video script?
Let's discuss the exact steps to make a video script with an example,
The first 10 seconds in a VIDEO
Are very important in which viewers decide to watch further or not.
Select the topic and check the scope, if it's broad or narrow. More general issues require more research and preparation. E.g. SEO is a broader topic, where Onsite SEO is a sub-topic and thin.
What is your topic?
In the next step,
Prepare for the first 10 seconds,
Do you need to tell your audience what the video is all about?
Tell the subject
What are the issues or topic details
The proposed idea and the solution
Keep the script shorter,
A 350 words script can constitute a video of up to 2 minutes
And make it enjoyable to hold visitor attention.

Data accumulation is yet another challenging task which comes even before the scriptwriting.
A good script gives
Information structure in the video
Visual & lyrical flow of information
Video length
Information structure in the video is typically in these sections
1. State the problem,
Tell your viewers what the message is about within first 7-10 seconds
And that's the recommended limit. Whoever is looking for the solution will stay, and rest will leave.
Keep it concise and to the point.
Consider summarising the core issue.
You are doing this to create an emotional connection with your viewer, to help them understand that they are not alone in facing the same problem,
You are only trying to ignite the spark needed to catch fire.
2. Solution information
Elaborate your solution with backup statements, facts & figures, benefits & features. Stronger the solution and higher the emotional bond. And the emotion you are earning is the trust of your viewers. So make sure your proposed solution should be more top inaccuracy, well-researched.
3. Solution information
Elaborate your solution with backup statements, facts & figures, benefits & features. Stronger the solution and higher the emotional bond. And the emotion you are earning is the trust of your viewers. So make sure your proposed solution should be more top inaccuracy, well-researched.
4. Summery & call to action
Finally wrap up by elevating the problem again and try to shed light on the solution and other possibilities, ask viewers about their opinion & suggestions. How they can connect and stay in touch with you.
The lyrical content in the video is of two types
1. Self-explanatory, When we deliver lyrical content based on our logic and thought process, e.g. a testimonial, an interview, a message, statement, explaining ideas etc. this type of content does not require a script.
2. Story flow, most often scripted when we present a visual story based on characters lyrical content is pre-defined and well researched
Video Hosting Sites
These platforms need no introduction, Vimeo boasts more than 700 million monthly views, which is much lesser then what YouTube broadcasts and the figure are over five billion every month.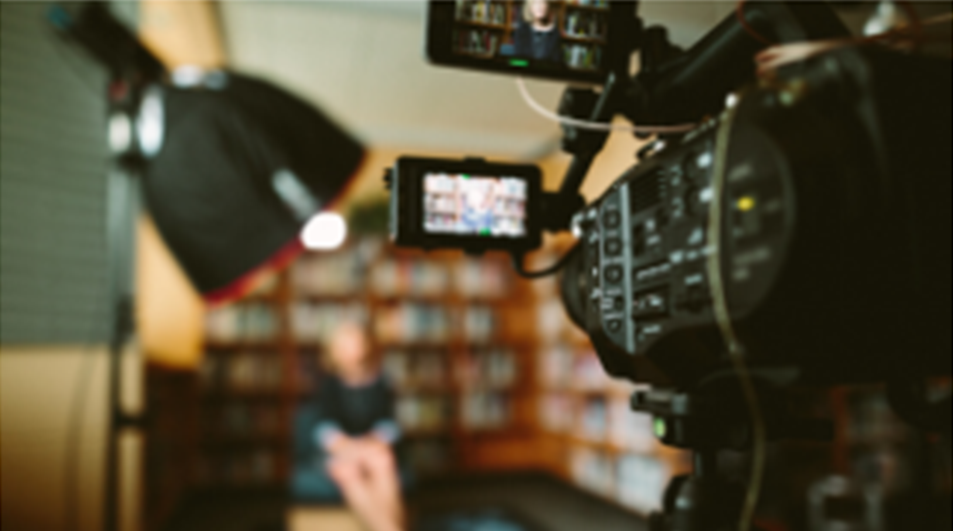 YouTube is undoubtedly the most popular video hosting channel; on the other hand, Facebook live broadcast reached 3.5 billion marks in 2018.
Here is the list of most popular top 10 videos on YouTube and the list tops with Despacito ft Daddy Yankee with 6.50 billion views as of Nov 2019.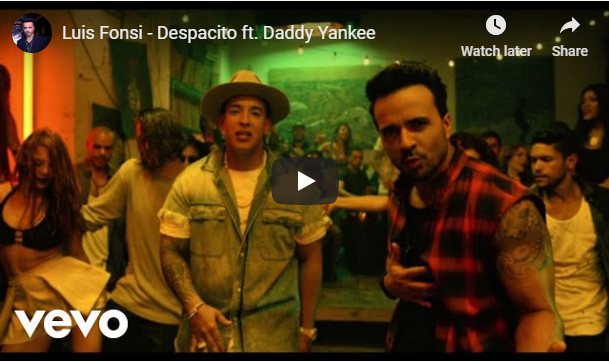 Facebook launched Watch in Aug 2017, which has now over 400 million monthly active users. It was first launched for the audience in the US and later available worldwide.
The Facebook watch is an on-demand service, and they call it a TV Network, video content is produced by partners who earn 55% of the revenue and let Facebook keeps 45%.
The Facebook watch will present videos that depend on social factors and your engagement in the platform. Facebook claims 140 million people a day spent at least one minute on the platform in June 2019.
Tiktok was first released in September 2016 by Bytedance, a Chinese tech giant formed in 2012. Tiktok is a video app for creating short-form and lip-sync videos. Available in 33 languages for IOS and android.
Facebook live is yet another most popular video streaming channels worldwide; Facebook claims live broadcast reached 3.5 billion marks in 2018.
The most popular Facebook live video Chewbacca Mom with 175 million views. Videos produced with life generates six times more interactions as compared to other channels.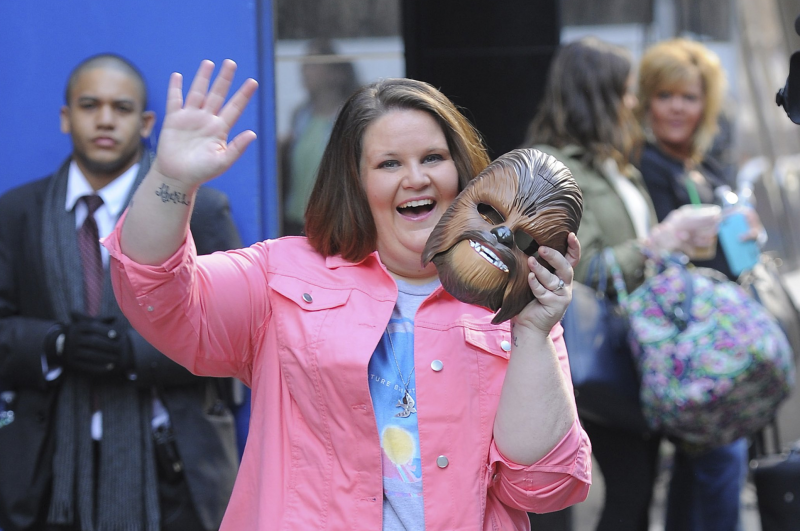 Set your goals
Determining the primary goal of your video is necessary, plan and decide the purpose of your video?
Is it related to brand awareness, product promotion, building subscriptions, helping the community, asking donations, etc.?

The second step is to understand the buyer persona, contemplate on questions related with your audience, be your critics and try to figure out
Who is your audience?
What age group you are targeting?
What are the demographics? Means where they live
Type of media they consume
Above will help you clarify your video making intent, you may realise brand awareness comes first before releasing product explainers, if your audience doesn't know you, very likely they may not consider a purchase as well.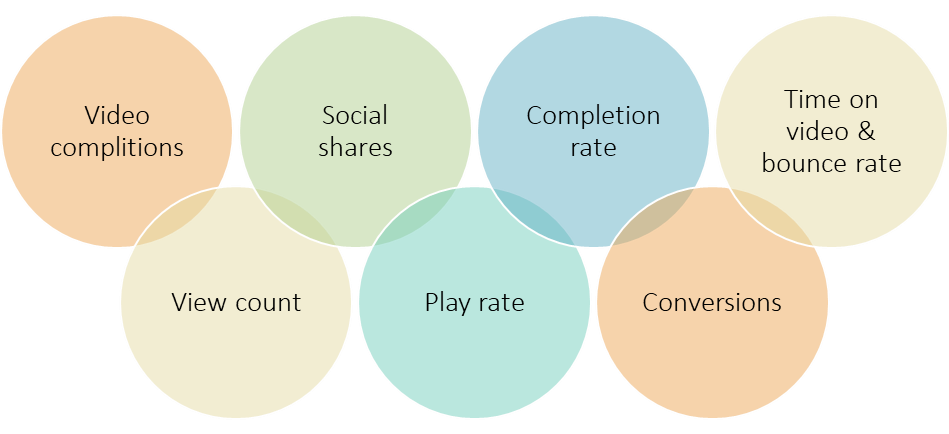 Verdict
Video marketing is highly effective and most engaging if done correctly. People highly prefer and regard videos before making buying decisions.
Despite all the learning through books & guides, one can never understand video marketing without facing a camera. The same goes for swimming as well, which you cannot understand without going into the water.
LEARN HOW TO FACE THE CAMERA
Video Marketing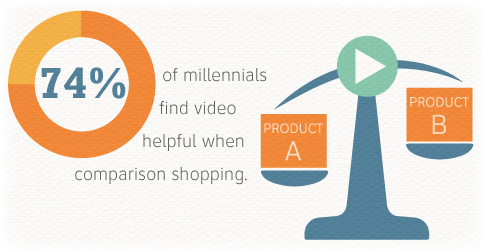 Although fear is an intrinsic factor in both the said activities which you can easily overcome with the practical experience only.
Guides like this only help you ride in the correct direction through which you can make informed decisions.  
Hyder Ali Khan
Hyder Ali Khan has worked in the digital marketing industry for the past ten years, with the majority of that time spent in the role of Operations Director & head of digital assets creation & marketing at Pacific Infotech...Read more